Matching couple tattoos are a unique way of saying, I'm serious about this relationship, because they are forever. And since they are forever, you need to think carefully before doing so.
A tattoo, once done, may not be easily removed. Therefore, you need to take care of the design you choose, the tattoo artist, and more. Most importantly, you need to make sure that you get the tattoo with the right partner. In this post, we tell you about the various things you can consider before getting a couple tattoo, and shares some of the best couple tattoo ideas.
Soulmate Matching Couple Tattoos
Getting a matching tattoo is a beautiful way to celebrate your connection with your partner. Having the same tattoo can bond you for life. You can choose a special symbol, word or phrase, joke about your relationship, or commemorate an anniversary or milestone. Matching tattoos are very successful among couples who are very similar. They represent being soul mates and thinking alike.
King and Queen Tattoos
This is a popular tattoo idea for couples. Add a personal touch by adding your initials or writing the unique quality of each one. If you treat each other as queen and king, then this king and queen of hearts tattoo from the pack of cards will be right for you.
Why not give your body art the royal touch? These designs show that you are the king and queen of others' hearts. Representing both the masculine and the feminine, this couple tattoo symbolizes that they have different roles, but that they complement each other perfectly. Getting king and queen tattoos can also be a fun way to show that you are 'co-ruling' your life together as equals and partners. The most passionate pair of kings in the deck of cards.
Crown Tattoos For Couples
These subtle crown tattoos complement each other without being the same so you can adapt them to your style. Often paired with king and queen tattoos, crowns represent both power and responsibility, both of which are important when it comes to love.
They also symbolize what you aspire to achieve in life. If your partner is important to you, a crown tattoo is a great way to honor them. European-style crowns have eight golden arches that symbolize eternal life, so matching crown tattoos for a couple can represent their eternal life together.
Initial Tattoos For Couples
One of the original couple tattoos is to have the initials of your other half inked on your body. Traditionally, it is considered bad luck to have a lover's name tattooed. However, an initial is a big commitment because you can quickly adapt it to something else in case the worst happens. From a less cynical perspective, initial tattoos are a beautiful way to pay tribute to your one and only – they show the world that they are yours and that you are theirs.
Infinity Tattoos For Couples
This is perfect for couples hand tattoo.Get each other's names inked and tell the world that your love for each other is endless.You can also enter the date of your marriage in Roman numerals. The infinity symbol represents eternity. It is an endless cycle that has no beginning and no end. For that reason, it is a popular choice for couples to show their undying love. This inking also symbolizes how your love is boundless – it has no limits and will go on forever. The infinity symbol is not only a very moving and meaningful inking, but it is also a great unisex design. Since it is not too masculine or feminine, it adapts to all types of couples.
Skull Couple Tattoos
This idea is for those couples who want to make a bold statement.You can have male and female versions of skulls inked on your fingers. Some may find skull tattoos a bit ghoulish, but what better way to say, 'till death do us part'? You can adapt this versatile design to any style. An anatomical style may be your preference, or perhaps something more elaborate and gothic. There is something romantic about skull couple tattoos that cannot be denied. Of all the couple pieces that exist, these are some of the most exclusive.
Disney Couple Tattoos
If you are both kids at heart, then a cartoon tattoo is cute. Choose this evergreen couple: Mickey and Minnie Mouse, unlike the wrist tattoo here you can have all the figures.You can also add a romantic touch by creating as if they are kissing. Love can make you feel like a kid at heart, just like the Disney movies! There's a reason Disneyland is called 'the happiest place on Earth,' and the various theme parks around the world host dozens of weddings and engagements each year. For all you Mickey Mouse fans out there, a Disney couple tattoo is the perfect way to pay tribute to your childhood sweetheart, or the person who makes you feel like a kid again. It's also a sweet way to remember the place where you got engaged or married.
Name Couple Tattoo
One of the most common ways that couples profess their undying love is through name tattoos, in which couples have each other's names inked. The name pair design literally speaks of the person belonging to the one whose name is engraved on their body. The shoulders, wrists, and forearms are the ideal locations for name tattoos as they are some of the most prominent locations on the body. Name matching designs can be embellished by adding some other design elements or using bright colors.
Puzzle Piece Couple Tattoos
Do you feel that your partner is the missing piece in the puzzle of your life?Do the two fit together perfectly like two pieces of a puzzle?So here is a tattoo idea to show off such perfection. A unique idea is one that depicts incomplete puzzles, with pieces from each of the partners fitting together to make a complete piece. It is a playful idea, preferred by young couples, although older ones can try them for adventure.
Sun and Moon Couple Tattoo
If you feel that your partner is like the sun, who lights up your day and is always bright and smiling, and you are the moon with a bit of darkness, but it is gentle, then this cute couple tattoo idea is for you. The great symbol of duality in the world, representing the two sides of the same coin that complement, improve and accompany each other.
Star Wars Couple Tattoos
We all have a favorite couple on screen and for many, it's Han Solo and Princess Leia from Star Wars. This couple is known for their witty banter and sense of independence that hides their romantic and sentimental sides. Definitely for fans of the sci-fi classic, a Star Wars couple tattoo will show not only your love for the epic franchise, but also your love for each other. May the Force be with you if you choose this inking!
Wolf Couple Tattoos
Wolves are known for being wild and untamed. Many people have heard the myth of the 'alpha wolf' of the pack, but in reality, these amazing creatures form family groups with their chosen mates just like we do. Wolves are incredibly loyal and when brought together they will stay together for many years, hunting, playing and raising their pups together. A wolf couple tattoo symbolizes a couple that trusts their instincts, is fiercely committed, and will protect each other at all costs.
Anchor Couple Tattoos
Do you feel that your partner is the missing piece in the puzzle of your life?Do the two fit together perfectly like two pieces of a puzzle?So here is a tattoo idea to show off such perfection. This nautical design is all about finding your safe harbor. When ships drop anchor, their days of wandering rough seas are over. Instead, they've discovered calm waters, and it's all smooth sailing from here. This is a romantic take on one of the traditional sailor tattoos, which historically represents hope, salvation, calm, and steadfastness. These are also all the qualities you want in your partner!
Lock and Key Couple Tattoo – Married Couple Lock And Key Tattoo Couples
Only one person has the key to your heart. Show how much your other half has unblocked their emotions, or tell them you're ready to block them, with this meaningful body art. Popular locations for these married couple tattoo ideas include the inner forearm, ankles, and hands. This is also a versatile tattoo idea because you can choose a large and ornate design or something more minimalist. Whatever you decide, it is clear that lock and key tattoos show that you are truly made for each other.
Heart Couple Tattoo
It may seem trivial, but from the world and the world, the indisputable symbol of love is the heart, a strong heart that beats for another person . You can make it big, small, colorful, stylized, the important thing is the message. If you like to follow trends, you can opt for hearts that are not large, tattooed on the hands for example or on the wrists, we even give you an idea that is now a trend: heart tattoos on the fingers for those who have just married. . A nice way to celebrate your love and to share one of the best small tattoos as a couple.
Yin Yang Tattoos For Couples
Dark and light symbols are used to represent men and women. The Yin (black half) represents femininity, softness, and passivity, while the Yang (white half) represents masculinity, strength, and creativity. The Yin Yang tattoo symbolizes the existence of two separate halves that move towards each other to form a whole. Also, each half carries a small dot of the opposite color, meaning each half has a small amount of the other inside.
Couple Tribal Tattoos
Tribal tattoos are very significant in many cultures. Each one has a special meaning, and the process is a rite of passage. If you are not a member of a tribe, it is important to respect these symbols and their essential place in another culture.
However, if you and your partner love the look of these tattoos, you can create an original piece that has the same dark ink and use of shapes. Many artists take inspiration from traditional designs, so you'll be able to create something unique just for the two of you. It will pay homage to tribal art without being a direct copy.
Country Couple Tattoos
Country tattoos are all about the traditional outdoor lifestyle. Inspired by nature, these tattoos often have a theme related to hunting, horseback riding, hiking, or fishing. Think of antlers, hooks, feathers, horses, flowers and trees! These beautiful inking ideas will connect you and your partner to the roots of your country. This type of design will make you think of being on the ranch and at home in the arms of your other half.
Love Quotes For Matching Couple Tattoos
Words mean a lot.With these simple words, you can tell the world how powerful your love is.Inspired by the Harry Potter series, these words describe unconditional love. Words will always transport you to moments of love, so wearing one of the phrases for tattoos for couples that identifies them will be a positive and unique memory. "Always together" or "Always together" "Mrs. & mr." "No matter where" or "No matter where", are some of the most common phrases for couple tattoos; however, you can personalize it by using a quote from a book you've read together or your favorite movie.
Another idea that can fulfill the objective of having tattoos for couples with meaning is to commemorate a special date such as their marriage or their initials wrapped in the infinity symbol.
Couple Love Tattoos
The word 'love' and heart symbols are some of the most famous couple tattoos. For romantic and sentimental types, it's all about wearing your heart on your sleeve, sometimes literally. These inks cannot be misunderstood and make a simple and bold statement about what is most important in life. There's a reason why love tattoos have been around for so long and why people keep getting them: they're simple, powerful and iconic.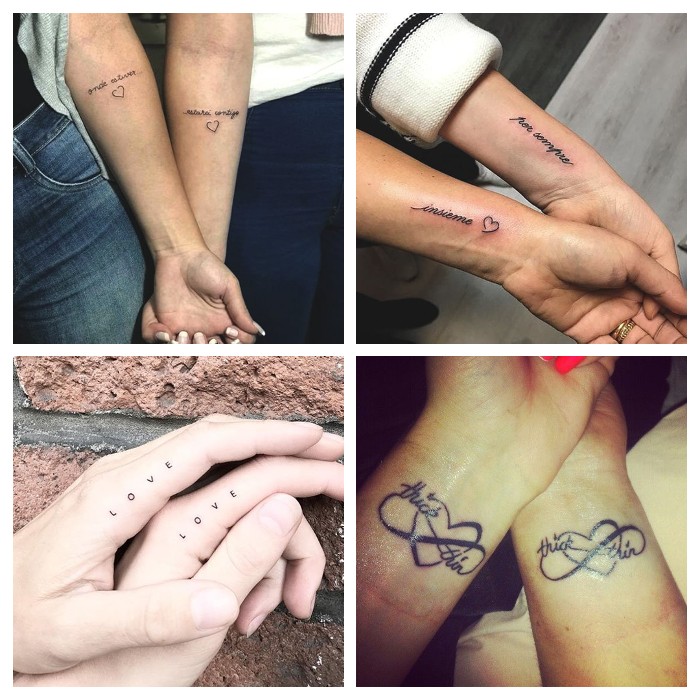 Small Couple Tattoos
If you don't like big tattoos and want a simple yet unique couple tattoo, then this idea is for you.If you both love coffee or met for the first time in a coffee shop, then ink the coffee molecule.You can also subtitle it: a couple that drinks coffee together stays together. Depending on the couple, there are those who prefer to choose smaller tattoos , because they are easier to show or hide at ease, but today we will explore the most inspiring designs taking into account their meaning.
Married Couple Tattoos
With this idea, both of you can have your wedding rings permanently engraved on your body.You can also have your initials carved around your ring finger. Although wedding rings are traditional, more and more couples are opting for marriage tattoos. Usually placed on the ring finger, these inkings are more permanent than jewelry and can be tailored into many different designs. They are a great option if you don't usually wear rings or can't wear your ring at work for safety reasons. The married couple tattoo is a visual reminder of the commitment you have made to your vows, and it will last as long as your love.
Cute Couple Tattoos
It's a nice idea to say that home is where your partner is.No matter where you go, at the end of the day you will find peace between them. Tattoos don't have to be edgy or artistic to be meaningful. For many couples, a serious tattoo would not reflect the nature of their relationship. Playful couples who are young at heart will love cute couple tattoos. Cartoons, fruits, and fluffy animals create adorable body art. These adorable tints are also a good choice if you have a youthful sense of fashion. It's all about choosing a design that you love and that makes you smile!
Unique Couple Tattoos
There are many popular tattoo designs for couples, and it's easy to see why. They represent universal feelings of love and affection in an easy to understand way. However, not all couples want to choose a standard design. The more artistic types can choose a unique tattoo concept that is one of a kind. These inkings can be abstract or refer to something only the two of you understand.
Couple Finger Tattoos
Finger tattoos are a peculiar option when it comes to partner tattoos. There are many different possibilities for the piece; for example, you can choose to have lines from a poem inked on your fingers so that they can be read in their entirety when you intertwine them. A simple design could be matching inking that is only visible when you move your hands in a certain way. It's a low-key tattoo option that has a playful vibe.
Matching Boyfriend Girlfriend Couple Tattoo Designs
Tattoos have been an art that we have used for a long time, but these were formerly only done as a completely individual art, today that has already changed. For that reason, the following article will be completely dedicated to showing you a series of matching couple tattoos that you can share with your partner that I assure you you had no idea existed.
When wearing a matching tattoo it is said that these people fully trust each other, and on top of that they are not afraid to show the world how proud they are to know each other. When these tattoos are worn by couples, this gives a much deeper meaning, since it is a mark that will unite them for life, implying that they found love and that they want to remember it forever.
Here we present you photos of matching couple tattoos that you can try. Some of the deep meanings that these couple tattoos have are defined below:
Ring Finger Tattoos
The ancient Romans believed that the ring finger, the fourth finger of the left hand, contained a vein that went directly to the heart. They called it the vena amoris – the vein of love. This is said to be the reason why wedding bands are traditionally worn there. For the same reason, getting your partner tattooed on the ring finger is incredibly romantic. Having your partner's name, initials, or a symbol of your relationship written there shows that they are the person closest to your heart.
Cool Couple Tattoos
For couples who like to stay on trend, a cool tattoo is a must. The freshest designs combine traditional elements with a modern twist and a unique artistic style. One idea is an updated version of the classic swallow tattoo on the forearm. This inking was made famous by the iconic tattoo artist known as Sailor Jerry.
These birds represent traveling and coming home, so they are great if you are in a long distance relationship. They also create a dynamic tattoo full of movement. Regardless of what you decide, choosing an artist with a lot of experience and a definite aesthetic is essential to ensure you get a great tattoo.
Meaningful Couple Tattoos
If you are looking to get a tattoo, which tells the story of your relationship, then this is the idea for you.In this tattoo, there is an anchor, which symbolizes hope and patience to hold on, and the other symbol is a compass, which shows direction.Choose the symbol that defines each of you.
Simple Couple Tattoos
If you have a minimalist style or you are just a discreet person, a simple couple tattoo is for you. These inkings are usually in black ink rather than color, use a stripped line style, have minimal shading, and are small in size. Because the design is so simple, these pieces tend to be more symbolic than specific, but still very romantic. And the good news is that you won't need to spend hours in pain while going under the needle!
Couple Hand Tattoos
Hand tattoos are becoming more and more popular. While they used to be associated with unsavory types, today these inks are embraced by people from all walks of life. They are also accepted in most workplaces. Because hand tattoos are so visible, they can't be easily covered by clothing, they make a real statement. If you plan on getting your hands together, try a design that is completed when you hold hands, touch fingers, or high five. This symbolizes how they complete each other.
Couples Wrist Tattoo
The wrist is one of the most striking places to place a tattoo. As a result, it's a great choice for couples who want to show off their love! This is a small area, so any design you choose should be small and relatively simple.
Many couples opt for a piece of art that makes sense when holding hands, such as a paper plane in flight, a heartbeat, or a Celtic knot. Keep in mind that it can be quite painful to get a tattoo on your wrist due to the number of nerve endings under the skin. So prepare to suffer for your love!
Lesbian Couple Tattoos
Many lesbians turn to tattoos to express themselves and their sexuality. As a result, tattoo parlors have seen an increase in lesbian clients. Lesbians use tattoos to express themselves and their sexuality without worrying about being judged for it. Lesbian tattoos are an important symbol of lesbian pride and can be designed to represent many different things. If you are looking for some cool tattoo ideas for women check this article.
Gay Couple Tattoos
Gay couple tattoos not only symbolize your love for your partner, but can also be a permanent visual reminder to always be proud of who you are. If you are going to tattoo your partner during June, Pride Month, you can opt for a rainbow-themed design. However, not everyone likes multicolored body art.
If you prefer a simple black ink tattoo, a significant option for gay couples is the double triangle. When pointed upwards, this three-pointed shape represents masculine energetic force. So when two of them overlap, it can symbolize the love between two men. This is a great idea for a couples tattoo if you want something subtle that suits both styles. Here are some of the best tattoos for men to use as an inspiration.
Sexy Couple Tattoos
A sexy couple tattoo is a must for every passionate couple. This type of ink shows your sensual connection with each other. There is a wide variety of sexy tattoos out there; A classic option is to have your other half's initials inked on a private area like your hip, thigh, or chest. Another idea is to have a special symbol tattooed on your sides, so that it is only visible when you are naked.
Funny Couple Tattoos
The fun matching tattoos represent the unique sense of humor that the two share, so they will be different for each couple. Some may prefer raunchy sex jokes, while others may want a wacky and original inside joke acted out. Even puns are fair game if you and your partner enjoy them! Find something that makes you both laugh and book your appointment with the tattoo artist. The best part is that every time you look at your ink, you will laugh.
Minimalist Couple Tattoos
Minimalist tattoos for couples are a good choice if both are going to get tattooed for the first time or if for work or aesthetic reasons they do not want to have a large part of their skin marked. Choosing small tattoos for couples does not mean that they are boring or that they cannot be magical, on the contrary, ideas with great meanings can be captured in simplicity.
Examples include: a line that complements each other, the first star constellation you saw together, a pair of anchors, Yin and Yang as a perfect balance, thin lines on your fingers that act as wedding rings and many others like that. A minimalist couple tattoo is a perfect choise for couples.
Nerdy Couple Tattoos
When you share a nerdy passion with your other half, why not get matching tattoos to celebrate? Many couples have been brought together by their mutual love of Harry Potter, Doctor Who, a video game, or a comic book. When choosing your tattoo, look for a fictional symbol, slogan, or couple, like Mario and Peach from the Super Mario games, that tie in with your favorite media. This piece of body art will remind you of all the fun times you spent sharing your favorite entertainment.
True Love Couple Tattoo Designs
There are many tattoos that you can get with your partner, although the best thing is to opt for the one that allows you to identify your relationship and your love. There are many options for couples tattoos that you can get and mini tattoos are a great idea if you want to have a subtle tattoo with your crush. Today in this blog we want to give you a selection of 70 mini tattoos for couples that will be of great inspiration and will help you get the tattoo of your dreams. So keep looking at this blog and discover amazing tattoos. Tattoos for couples are one of the many ways to represent in a lasting way the strength of the feelings that unite us. There are designs that represent eternal love , or more discreet tattoos , but all stand out for the possibility of being beautiful and original. Tattoos like these:
Unique Meaningful Matching Couple Tattoos
Couple tattoos have been popularized by celebrities who wear and flaunt them in public to declare their love and commitment, right in front of their fans. David and Victoria Beckham, Stevie J and Eve and Dean McDermott and Tori Spelling are some of the most well-known global celebrity couples that have been seen sporting matching couple art tattoos.
The most favorable places to tattoo them are the wrists, forearms, ankles, the nape of the neck, the back of the ear and the shoulder, because couples prefer to show off their life than hide it. They are a great way for a couple to show their dedication and commitment to each other, but they are not limited to just couples in a relationship, such as husband and wife or lovers. Even the best of friends and family members can get matching couple art tattoos in ink to highlight their love and commitment to each other. The design options may vary for them, but the purpose is the same: to express their loving emotions and feelings.
Things To Consider Before Getting Partner Tattoos
The idea of ​​getting ink is exciting, and you can't wait to do it. But there are some things you need to ask yourself and the artist to achieve the desired result.
A tattoo must serve its purpose. So, don't assume that the tattoo artist would know better than you. Prepare a rough design of what you want or search for designs online. Discuss various options with your partner and know what you want to say to the world through him.
Will it still be relevant after several years?
Since tattoos are forever, choose a design that represents a look that will remain unchanged even after a decade. Talk to professionals, take your time and consider various options.
What would be the location of the tattoo?
Decide where you want to get the tattoo. Some couples like to put it on visible areas like fingers, neck, hands, and legs, while others like to keep it on intimate areas. Choose a place that is comfortable for both you and your partner.
Am I ready to take the pain?
You may have focused on beautiful design and the right placement. But can you and your partner bear the pain? Keep in mind that the more complex the design, the more painful it can be. However, the pain may be momentary and go away soon. Also, the intensity of the pain depends on the location where you want it done. For example, a tattoo on the chest or neck is more painful than one on the arms or legs.
Is the tattoo artist the best?
It's not enough to have a great idea; Finding a skilled artist is also important. Ask your friends for referrals and see the work of tattoo artists before you write. Talk to the artist and only do so when you feel confident in the work. Also, make sure the artist adheres to all hygiene requirements (new needle, clean place, hand gloves, etc.) while doing the tattoo.
How to take care of the tattoo?
The end results can be attractive, but both you and your partner must take care as recommended by the artist. They may suggest you apply a cream or lotion to soothe the skin and also make the tattoo long lasting.
Now that you're all set, here are some ideas that might inspire you.
How To Choose A Tattoo That Identifies Me With My Partner
If you want to be able to get a tattoo that identifies you with your partner, it is something that you must decide in communion. You can't pick a design and ask your partner to do it for you too if he or she isn't sold on it. In fact, many times this type of thing fails because there is no real symbol that represents the couple as a unit. In this way, it is normal to end up getting a tattoo that you do not really feel like yours and that in the long run you end up regretting it.
Choosing a tattoo can be stressful because it's permanent , and making the wrong choice can be painful, costly, and inconvenient. There are many factors to consider before making a final decision, including size, color, design, meaning, style, and placement, as well as which artist to choose to get exactly the tattoo you want.
The bottom line is to take your time and do all your research before choosing. Do you like the same series? You can tattoo a phrase of this or the title. Do you like nature? You can choose a tree or the date of your first date. You are a couple, surely some kind of symbol will represent you. Just sit down and talk and get to find out what the two of you are all about.
On the other hand you have to agree on the size. You may like large tattoos and your partner medium or small, or it may be the other way around. You have to decide the design well but also the size so that the two of you agree and in the case of wanting to get a joint tattoo but not having the same opinion about the size, it is always better to choose small couple tattoos since in this way You can go both tattooed at the same time, but without the need for the person who does not like tattoos that are too big to end up regretting it.
Also, in the event that you end up breaking up, if you have small partner tattoos it will be easier for you to continue wearing it without having to erase it.
Frequent Questions
What do the matching tattoos mean?
Matching tattoos are a really symbolic step for a couple.
Some couples' matching tattoos represent their shared milestones, such as years spent together, children they had, people they lost, or many other experiences couples share.
Why do couples get matching tattoos?
Getting inked together is a great bonding experience.
You can show your creative side when you choose a design together. More importantly, having a partner tattoo makes a bold statement about your relationship and shows the world what your other half means to you.
What are good matching tattoos for couples?
Some good matching couple tattoos are quotes, sun and moon, tribal, matching design, wolf, lock and key, Yin and Yang, and infinity.
Are matching tattoos considered bad luck?
Getting your partner's name tattooed, no matter how well your relationship is going, is considered a kiss of death according to tattoo artists.